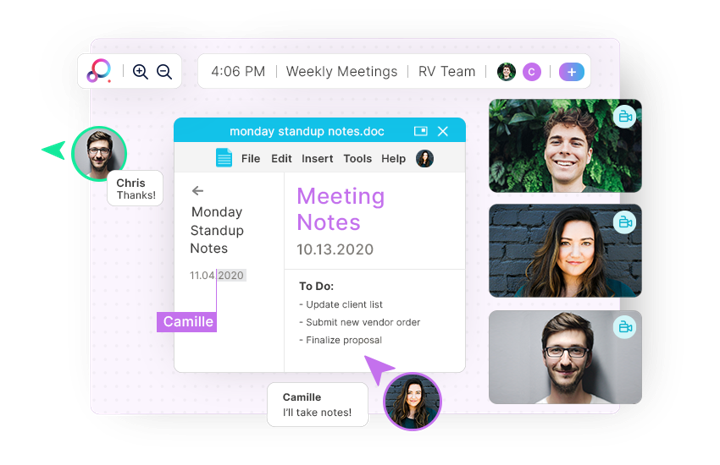 As a senior level Product Manager, Solani takes pride in being accessible to her team to measure progress and to mentor. Her dynamic, out of the box thinking is what led her to success launching product after product. Now that the world has gone remote, it's harder for her to motivate her distributed team, and make sure that she's achieving roadmap goals consistently.
A Product Manager's life revolves around meetings. Whether it's customers, stakeholders, design or development teams, face-to-face interaction is crucial to maintaining a smooth workflow. Though tools like Zoom and Google Meet are great for a quick video call, they lack the synchronous collaboration that Product Managers like Solani crave as a time saving component. Simply put, videochat + screen sharing isn't enough.
With RendezView, Solani creates permanent workspaces for recurring meetings where she no longer has to context switch from app to app. Her team members can upload docs, files and spreadsheets while video chatting to ensure everyone is on the same page. The best part, those items will be right where Solani left them, making mentoring in her one-on-ones easier.
Product Managers and their teams can better utilize their time with a tool that allows for stronger collaboration. RendezView adds value to that time by making it easier for them to meet consistently while prioritizing metrics that matter. For Solani especially, being able to lead her distributed teams effectively is crucial to successfully launching her product, and making sure her teams thrive and work well together.