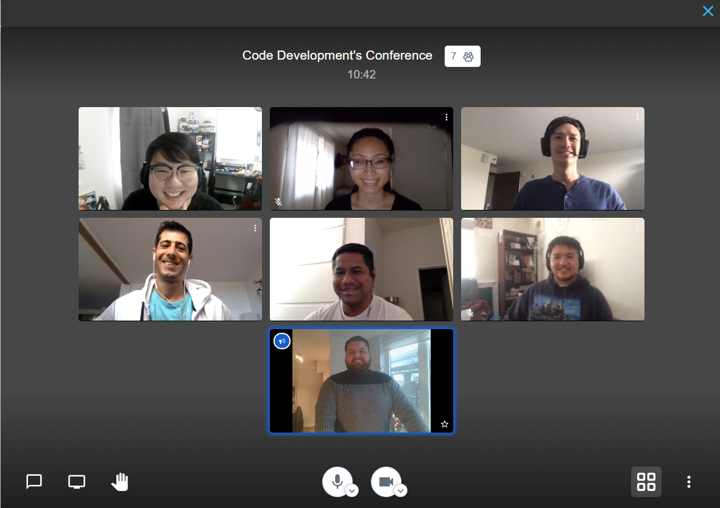 A Note From Our Founder: Alberto Gonzalez, Ph.D
A deep and very special thank you to you, your teams, and your students this 2020 for supporting our dream and passion that better online collaboration is possible.
This has been a rough year for all of us, in the midst of a global pandemic that has painted an uncertain future. Despite the situation, our team at RendezView has pushed forward during the year and focused on building the simplest to use yet most powerful collaboration platform much needed in these "work at home" times. We wanted to share our journey with you, and write up a brief summary of our year.
Company Highlights
At the start of the year

,

Stefan Opsal

joined the company as COO.
In the spring

, RendezView was selected as one of three startups to participate in the

UH Ventures

program at the University of Hawaii Manoa.
Over the summer

, we released a prototype of the new RendezView collaborative workspaces. Although it was a bit rough around the edges, this version ended up as the foundation for our new collaboration platform.
And as the year came to a close

, we were honored to win the

Mozilla Builders Award

as part of their Fix-The-Internet program.
At the end of 2020

,

RendezView

is better than ever!
App Updates
? We added new cursors for all of your team members so you can easily collaborate and navigate your workspaces.
?️ A new encrypted, optimized, and HD video conference built into every workspace so you can stay connected with your team, big or small, no matter the distance.
? Because you deserve the best experience, we don't cut corners on the quality of our integrations. With our new Google G suite experience, you can video conference

while you work

in multiple drive documents, browse your drive, send requests or give access to files that have not been shared with you all just with the click of a button.  
? Invite users directly to your workspaces or teams so that your teammates have a bliss joining you in Rendezview from an email link. With the new unique workspace URLs, you can simply copy-paste them into your calendar for your recurrent meetings. 
? Rebuilt and optimized Endless Canvas, with an upgraded zoom and navigation interface. We banged our heads on how to design and implement the best zoom and nav experience yet so that your team can spend more time working together and less time on logistics.
? Complete ground-up redesign of the interface, complete with improved User and Team Settings, allowing you to set Team Admins, adjust team member permissions, as well as organize + delete invites, all from a single place.
? We built rendezview to work on Chrome, Firefox, Safari, and Edge so that you can have the pleasure of collaborating with your team from any browser or device.

Mobile support coming soon! 
? New tutorials and onboarding systems to help you and your team get the most out of RendezView, and a new feedback + support system built directly into the app.
Thank you so much for helping with RendezView, and for your continued support. We hope to see you inside the app this coming year, and promise to continue working hard every day to bring you the best collaboration platform.
As we look ahead to 2021, we are excite to bring you an enhanced suite of Project Management tools, New Integrations, Workspace Comments, and Team Dashboards in January. If you have a suggestion on how we can improve RendezView for you, please drop us a line and let us know what we can do to help. 
From our small team RendezView, we wish that 2021 will be the best year for you, your friends, and your families.
Sincerely,
Alberto Gonzalez, Ph.D